Our Month of Military event is under way, Click HERE for more information!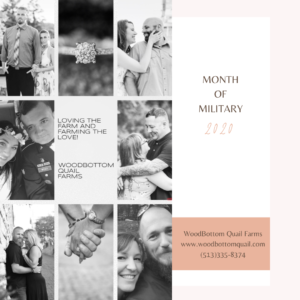 WoodBottom Farms made the news!
https://www.wcpo.com/news/our-community/homefront/veteran-owned-farm-hosting-all-inclusive-weddings-for-veteran-couples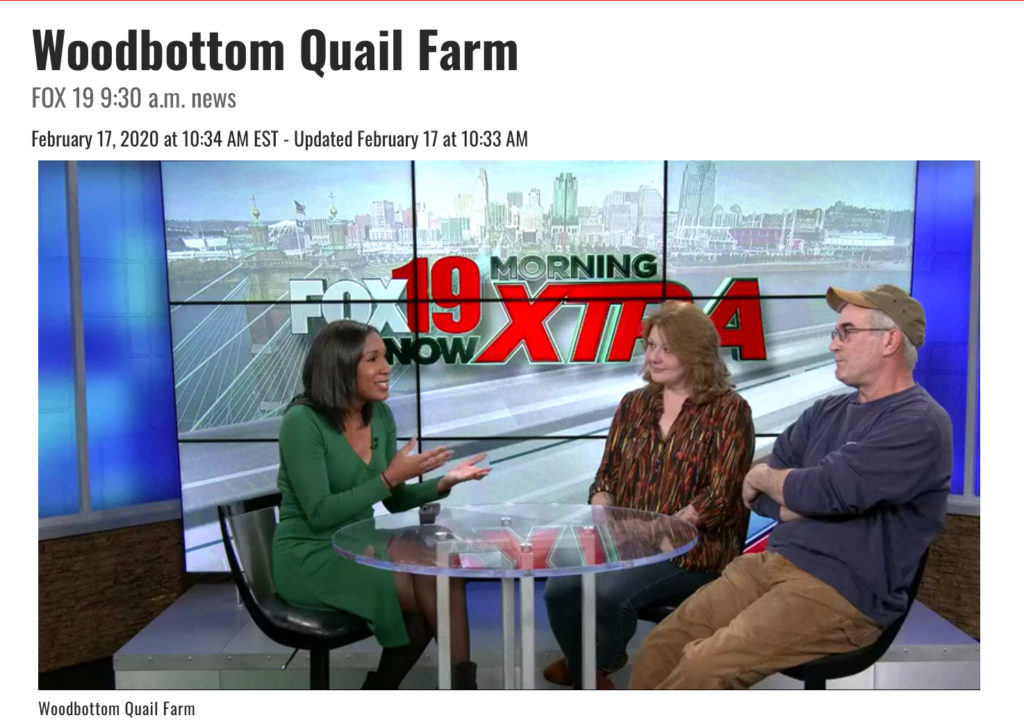 https://www.fox19.com/video/2020/02/17/woodbottom-quail-farm/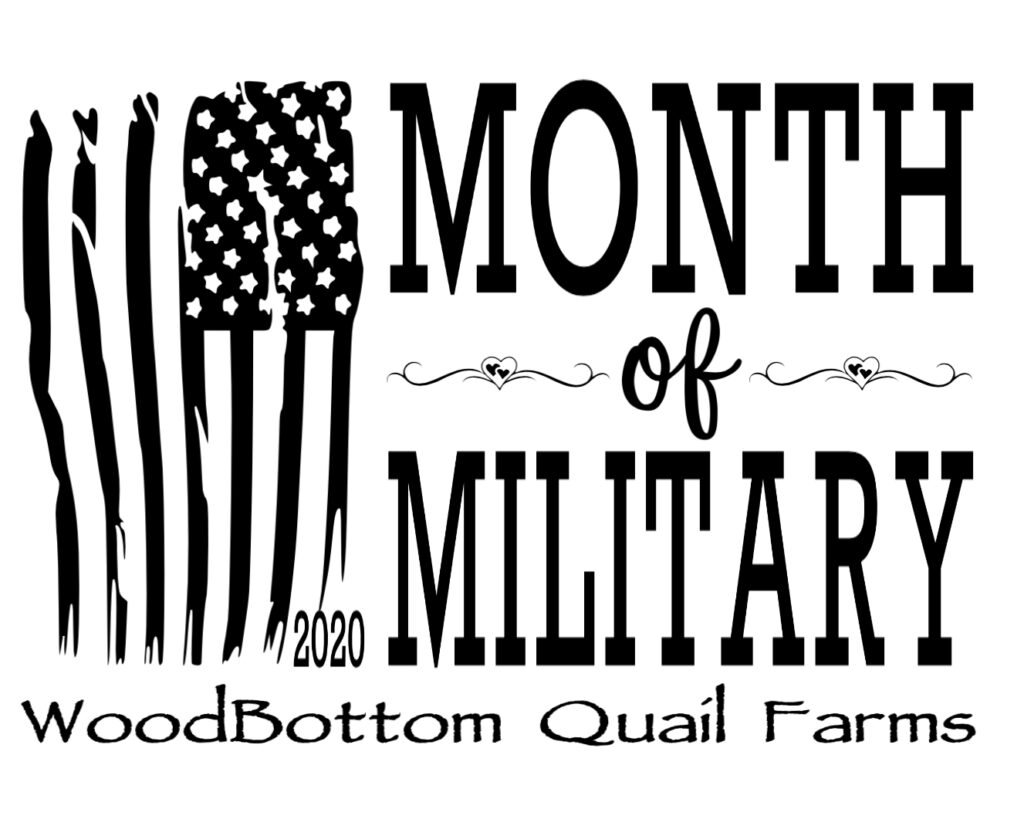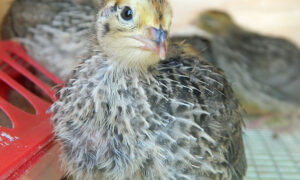 quail egg orders taken year round
 Normally this is our slow time of the year. Not this year! We are busy busy with orders still coming in at a much higher rate than previous years! We are working as quickly as possible to get everyone's order our as soon as possible. This season we have had a huge increase in orders, delaying some orders 2-3 months, as we ship in the order received. We will update your account once your order has been shipped, and send out tracking info.Visit our terms and conditions for most order questions at http://woodbottomquail.com/terms-and-conditions/
We thank you for your patience!
Local, natural and sustainable
Specializing in cage-free Coturnix quail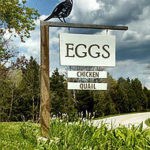 WoodBottom Quail Farms is a self-sustaining family farm in Clermont County, Ohio specializing in Coturnix quail and quail eggs. We raise high quality produce and happy livestock in the sunshine without the use of commercial herbicides, pesticides, antibiotics or growth hormones.
In addition to quail, we also offer a variety of other poultry on the farm, including Chickens, Muscovy Ducks, sheep, and sometimes Bourbon Red Turkeys, and Ring Neck Pheasants. Quail eggs, chicken eggs, and handcrafted blue ribbon bourbon-infused jellies, jams, caramels, and fresh veggies can be picked up at the farm (please call ahead for availability!), as well as delivered to your home and office.
Seasonal produce, foraged nuts, mushrooms, berries, and jellies, jams, syrups, & caramel can also be purchased at the farm.
Visit our ONLINE SHOP to buy fertile quail eggs & supplies, and jams, jellies, & caramels.
We are honored to be voted Cincinnati CityBeat's "Best Local Farm" 2020!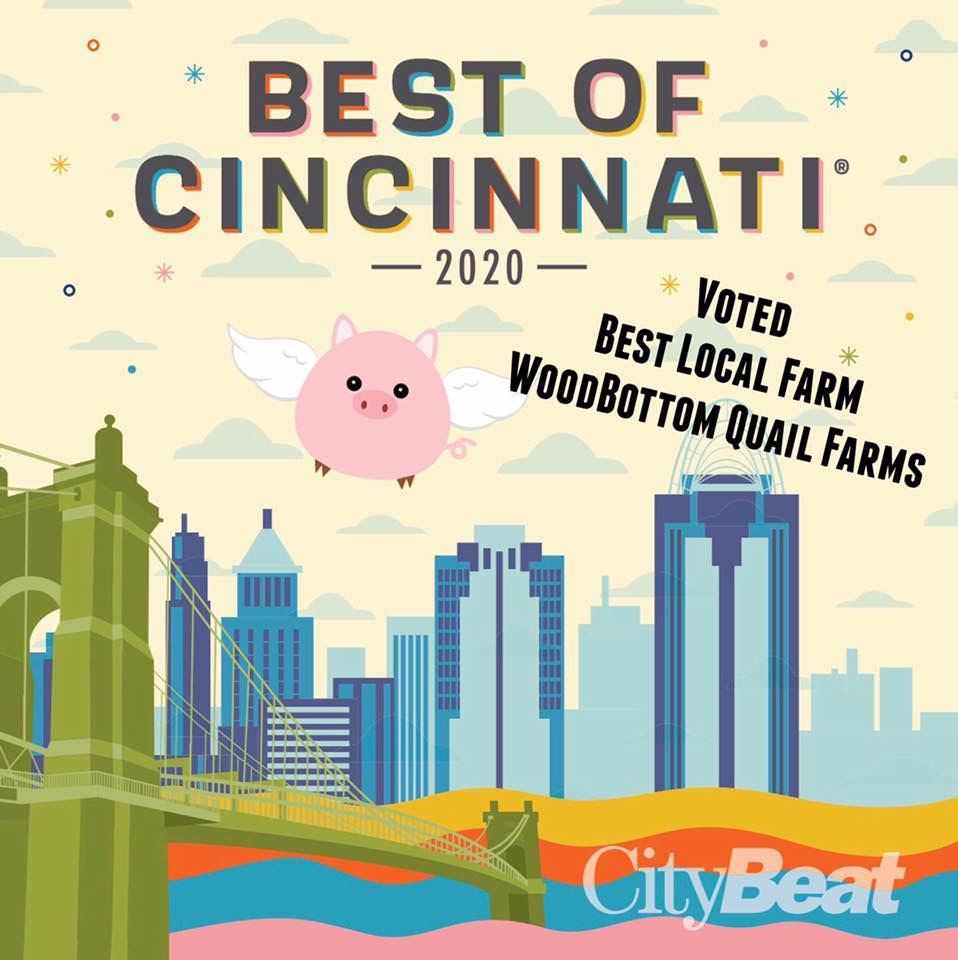 Thank you to everyone that voted for WoodBottom Quail Farms as Best "Local Farm" and placing under "Farmers Market Food Stall" on Cincinnati CityBeat Best of 2020! Your support is appreciated! Congratulations to all the other local businesses that won! Click here to see all the winners!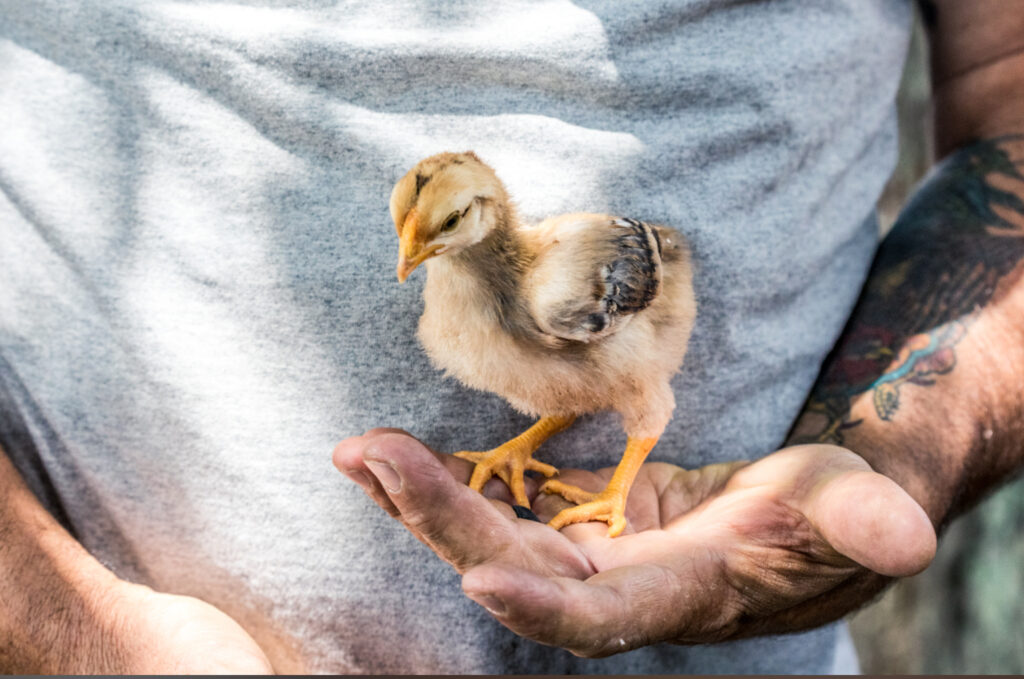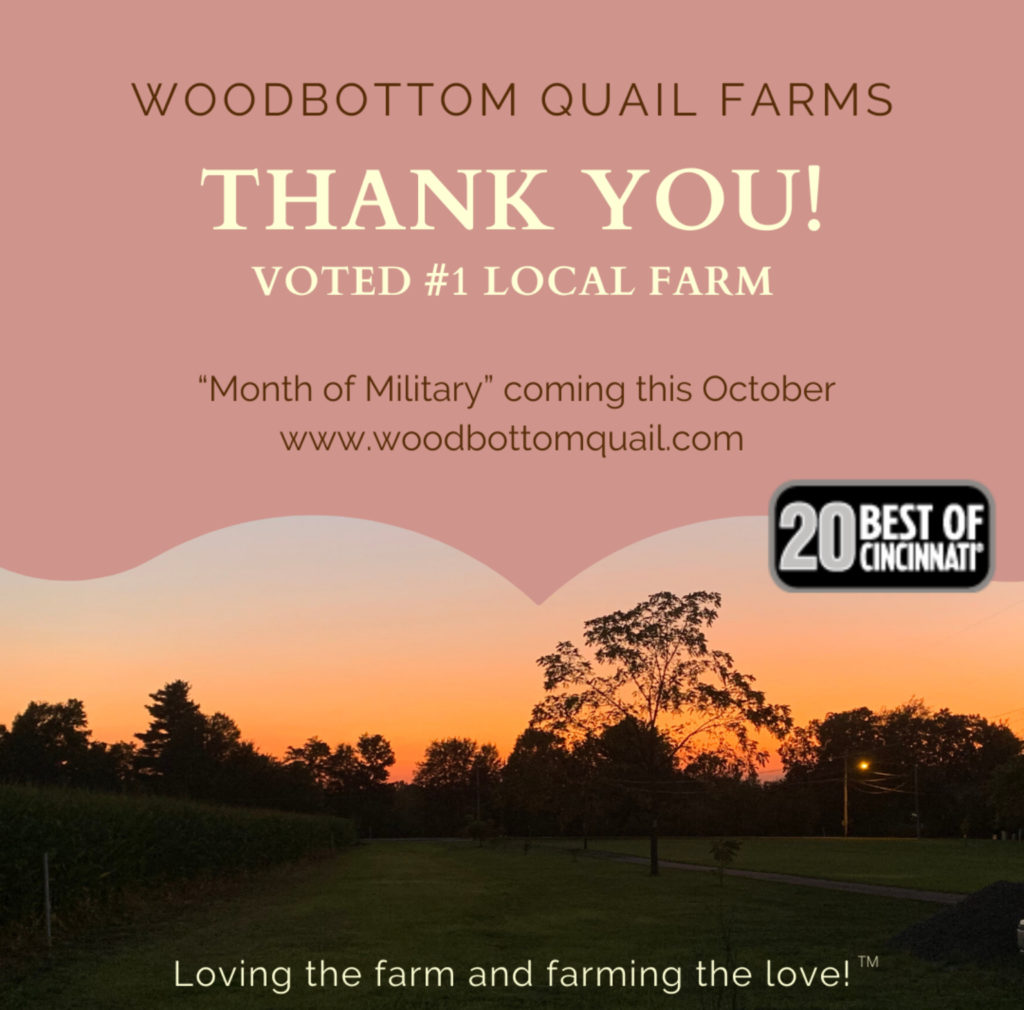 Wedding Officiant
Looking to get married? We got you covered! Now performing personalized weddings at your location or here on the farm in our 1800s rustic barn! Licensed ordained minister with the State of Ohio. 💒 💗
SEAT SPONSORSHIP
Seat sponsorship is a way of supporting our military members and veterans during our Month of Military. For just $10 per seat, your name will be displayed on the seat to show your support.
To sponsor a seat, call or email us now. We are accepting Venmo and PayPal also. Hurry…limited seats are available, with just a few more seats remaining. No-cost weddings for military members and veterans begin next weekend here on the farm!