Local, natural and sustainable
Specializing in cage-free Coturnix quail
WoodBottom Quail Farms is a small self-sustaining family farm in Clermont County, Ohio specializing in Coturnix quail and quail eggs. We raise high quality produce and happy livestock in the sunshine without the use of commercial herbicides, pesticides, antibiotics or growth hormones.
In addition to quail, we also offer a variety of other poultry on the farm, including Chickens, Bourbon Red Turkeys, and Ring Neck Pheasants. Quail eggs and chicken eggs can be picked up at any time, as well as delivered to your home and office.
Seasonal produce, foraged nuts, mushrooms, berries, and jellies & jams, can also be purchased at the farm. We accept credit cards on the farm and on location.
Visit our new ONLINE SHOP to buy fertile quail eggs and lamb.
Thank you for your patience as we relocate the farm! Online orders may be delayed as our birds become accustomed to their new surroundings.
We're proud to be a member of Bethel Business Association!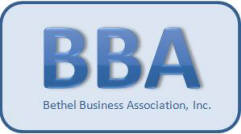 Have you visited Harvest Market or Clifton Market?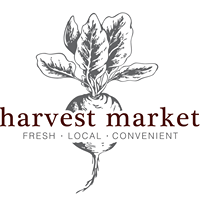 Full of the some of the best local products available!
Harvest Market is a family owned market in Olde Milford packed full of fresh and local items, carrying our chicken and quail eggs exclusively, and our fresh produce and jellies.
Clifton Market is located in the Historic Gaslight District of Cincinnati, bringing fresh convenient products to the Clifton area, including our chicken and quail eggs, as well as fresh produce.
Findlay Market – OTR
Now you can pick up our farm fresh Quail Eggs in downtown Cincinnati! Stop by Gramma Debbie's Kitchen in Findlay Market in Over The Rhine, and take home some today!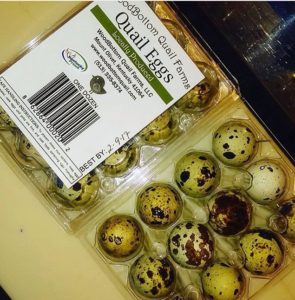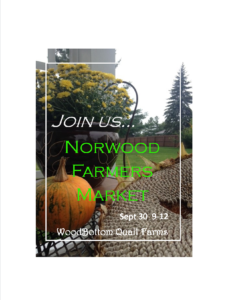 Norwood Farmers Market
Mark those calendars for the very last Norwood Farmers Market of the year! September 30th, we'll be there with the Pickle Wagon packed fulla pumpkins, mums, jellies, eggs, seasonal veggies, and crafts. All local all the time! Don't miss the final market packed full of fall!